The Bronze Stone Group of cemeteries offers many different memorialization options to families. Our family service counselors will take the time to answer all of your questions. They will explain your options to make your decision one that will meet your specific needs.
A bronze marker is placed flat on the ground. The bronze is most commonly engraved with a person's full name, date of birth, and date of death. Most markers also have a unique frame on the outer edges, along with a personal notation or prayer. The bronze is attached to a granite base, and that base is placed into the ground. Bronze and granite bases come in a variety of colors and multiple fonts are available.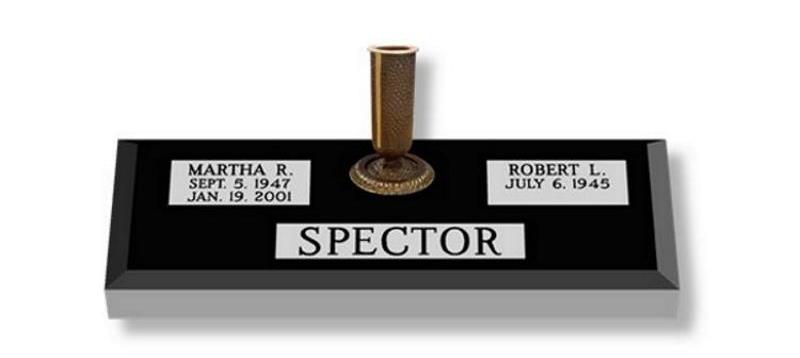 A granite maker lies flat on the ground. The most common granite markers display a person's full name, a person's date of birth, a person's date of death, and a small notation dedicated to the person. Other custom images are often times added to the marker. Several different granite colors exist, and many fonts are available.
Mausoleum – Personal Estate
A mausoleum is a free standing granite building constructed as a monument. This monument serves as a chamber for a deceased person or persons. Each mausoleum has its own unique build and are available in an array of granite colors.
We offer decorations throughout the year. Beautiful silk floral bouquets are available in a variety of flowers, sizes and prices. Flowers can be placed in vases May 1st through October 31st.
Artificial and fresh winter decorations are also available. We offer fresh cut wreaths and grave blankets for outdoor gravesites and artificial wreaths for indoor mausoleum crypt decoration. All of these items are available through our office and annual mailer, or by visiting our online store.